New Sleep Apnea Patient Information – Eugene, OR
Your Better
Sleep Quality
Starts Here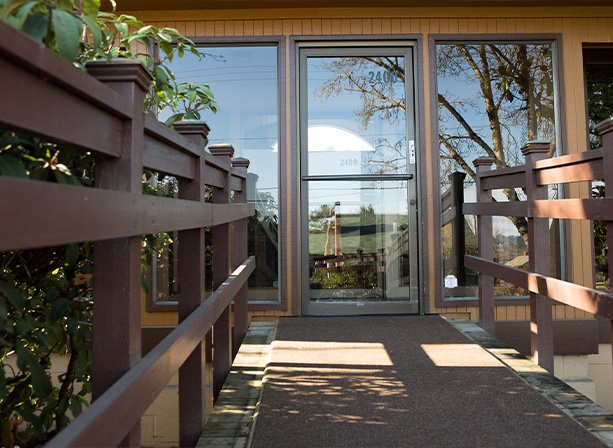 Nothing makes us happier than to use our expertise to help someone control sleep apnea and dramatically improve their quality of life, provide more energy, increase focus, and better overall health at Better Sleep Eugene. Struggling with sleep apnea, snoring, or compliance with a CPAP machine? Dr. Paskalev looks forward to providing you with sleep apnea treatment that is designed with your needs in mind. To learn more about visiting our Eugene sleep apnea dental office for the first time and what to expect, look over our new patient info below and give us a call at your earliest convenience!
Complete Our Convenient Online Forms
Convenience matters a ton these days, whether you are buying something online or working to achieve better sleep. That's why we are always thinking of new ways to help you save time and get the care you need in an efficient way. At our sleep apnea dental office, you can speed up your check-in process by completing our new patient forms in your own home before your visit! Just make sure to print and bring the completed forms to your next appointment and we'll make sure you see Dr. Paskalev with very little to no wait.
New Patient FormsNotice of Privacy Practices
We'll Take Your Insurance
Your sleep care should fit easily into your budget, which is exactly why our team is happy to accept your insurance so you can get the most out of your benefits. While our sleep appliances are provided by a dentist and can't be covered by dental insurance, we can help you save using your medical insurance benefits. This is because oral appliances are designed to treat medical conditions. Our team is highly experienced with the details and stipulations of many insurance plans. We make it easy to maximize your benefits, file claims on your behalf, and save you time dealing with paperwork.
Learn More About Medical Insurance and Sleep Apnea
We're Happy to Accept Medicare
At Better Sleep Eugene, we are happy to accept Medicare. This way, everyone in Eugene can gain access to the high-quality and affordable sleep services they need. With that said, Medicare can be quite complicated, but that doesn't mean our team isn't ready to make the process of using your benefits smooth and simple. For example, we'll verify your forms at the right time so you can receive full benefits and save big on your treatments. Our team members are quite familiar with constantly updating regulations. If you have any questions along the way, feel free to let us know!
We Have Affordable Financing Options
Patients who are looking to pay for oral appliances over the course of several months can take advantage of flexible financing through CareCredit. This company is a third-party financer that helps thousands of doctors across the country and countless patients fit a healthcare plan into a monthly budget. Not only do they provide a wide variety of low-to-no interest plans, but you can explore your options in more detail when you sign up. Doing so is as easy as clicking the link below.